About Us
Welcome to Huxley Hub... your flexible business space.
An easy in, easy out office rental building located in the heart of Plympton, Plymouth.  Our offices are fully serviced and can be let on flexible leases to suit you and the needs of your business.  An ideal space for you to interact and connect with others. We strive to create a community feel in the workplace.
Perfect for small and start-up businesses or entrepreneurs who are looking for a hassle free office space. Similarly, Huxley Hub is an ideal place for a larger business in need of separate smaller offices. We are also able to offer an on site, fully equipped, conference room facility so that everything you may need to run your business smoothly is conveniently under one roof.
We have a variety of offices in the building, from premium self-contained suites, to individual offices with shared facilities. The competitive pricing of our offices is inclusive of everything, meaning that you won't have to worry about surprise bills turning up at the end of the month!
Our ground floor premium self-contained suite has its own toilet, kitchen/breakroom and its own access-controlled entrance. While the first floor premium self-contained suite, is a dual aspect, open plan office, with its own toilet. These offices come unfurnished, however, you have the choice of whether you would like them to be furnished. Our shared offices vary in size from 1-4 people. These offices come fully furnished with a high quality desk, chair, pedestal and bookcase. However, if there is any other furniture you would like in your office, we will happily accommodate this.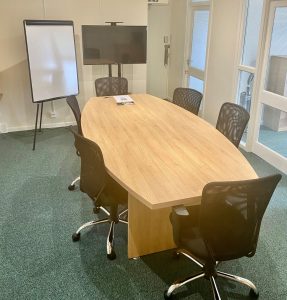 Local Amenities
Located in the friendly community of Plympton, Huxley Hub is close to supermarkets, local shops, pubs and cafes, has brilliant transport links into the city centre, local bus routes and cycle routes and is just a few short miles from the A 38, with links to Cornwall, Exeter, Bristol and beyond. As well as being close to local schools and hotels.
A38 – 2 miles
City Centre – 5 miles
Supermarket – 0.4 miles - 6 minute walk
Bus Stop – 0.1 miles - 3 minute walk