We have put together a list of frequently asked questions to help provide you with some additional information about our offices. Simply, click on any of the questions below to find the answer. However, if you can't find what you are looking for, or you would like to know more about Huxley Hub and our offices, you can contact us via any of the methods at the bottom of this page.
Either way, we look forward to hearing from you soon.
FAQs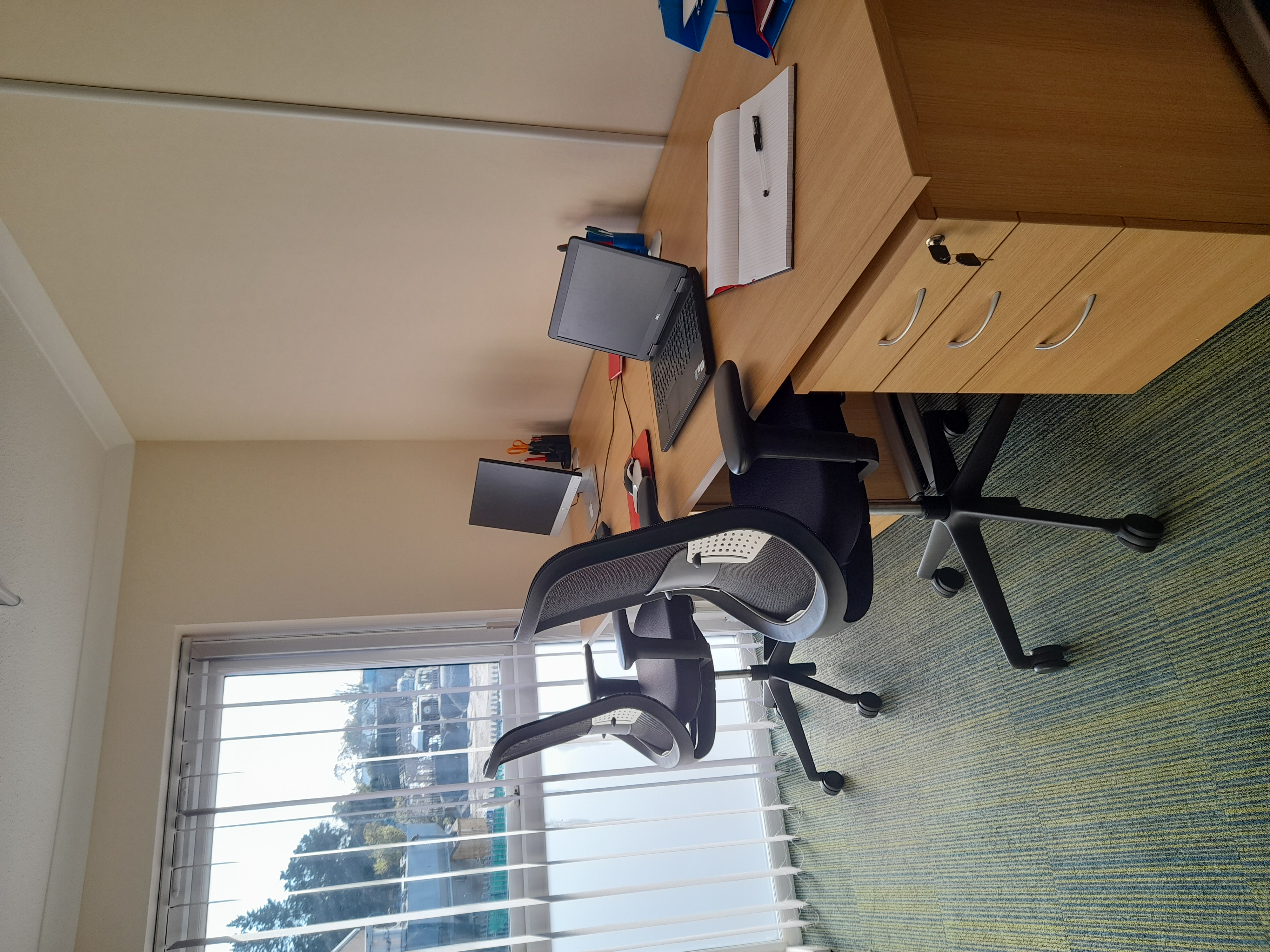 Each of the offices at Huxley Hub has a lockable door. Located along a corridor, all offices also have privacy glass on their internal windows. Furthermore, other tenants will not have access to your office. If there is anything more we can do to ensure you have the privacy you need in your office, please let us know.
You can contact us via phone, email, Facebook or the contact form below to arrange a viewing. We will get back to you as soon as we can.
Huxley Hub has a dedicated COVID Compliance Officer to ensure that the building is COVID safe. We have hand sanitiser located at various points around the building and we conduct regular cleaning in all communal areas. Please ensure that you wear a facemask when you are moving around the building and using the communal areas. We ask that everyone complies with social distancing rules and that only one person uses the kitchen at a time. As well as this, we ask that you wipe the kitchen down after each use. Each office has a window which will provide ventilation should you want it.
Any visitors you have should also follow the precautions we have put in place where possible. We politely ask that anyone displaying symptoms of the virus does not enter the building.
There are signs around the building as a reminder of these safety measures.
Yes of course, you are more than welcome to set up your own printer in your office. But, we do have a business hub available for you to use on site.
Our meeting room can comfortably accommodate 6 people around the table. However, we do have extra chairs available should you need them. Just let us know prior to your meeting and we will get the room ready for you.
No, not at all. The on-site meeting room is available to anyone, regardless of whether you are a tenant or not. Please contact us with your requirements, and we will accommodate you the best we can.
Your new office is ready for you to move in to whenever you are! Whether that's tomorrow or in a couple of weeks. We can't wait to welcome you to the Huxley Hub community.
An easy-in, easy-out office is one that is ready for you to move in and start work straight away. Easy in, easy out also means that you can terminate your license at any time. To offer you the flexibility to suit the changing needs of your business, licenses are on a flexible, monthly rolling basis. It also means you can expand, downsize or vacate with just 1 months notice.
A serviced office is one that a company manages. They come fully furnished and ready with everything you need. Thus, allowing you to move in and start work straight away. This makes them a popular choice for businesses. Serviced offices offer flexible and simple rental packages. They are convenient and affordable and means you can have your own space, without the extra hassle of a conventional lease. Your rent includes; bills as well as, internet access and maintenance. They also include extra services such as cleaning and scanning.
We rent our premium self contained suites on an unfurnished basis. So yes, you can absolutely bring your own furniture. But if you would prefer we sorted this for you, we can do so for an extra cost. Just let us know which you'd prefer! On the other hand, our smaller offices are already furnished. If you would like any extra furniture for your office, please do not hesitate to get in contact. We will happily provide you with a quote for anything extra that you may need.
Of course, visitors are always welcome to Huxley Hub. We just ask that for health and safety reasons, you please follow the signing in procedure and as well as accompanying your visitors in and out of the building.
Visitors are your responsibility. Please ensure all visitors comply with the Covid-19 precautions that Huxley Hub have in place.
Limited onsite parking is available for £5 a day. Huxley Hub issue permits on a first come first served basis. You can purchase your permit for any length of time. If you pay for 5 days you will get free weekend parking. We will also issue you with a parking space number. Therefore, that space is exclusively yours to use for the duration of your permit. You cannot have access to the car park without a valid permit.
There is also a small amount of offsite parking on the road leading up to the building. Although, with several other businesses in the area, these spaces often get filled quickly.
Please contact us about purchasing a parking permit.
Alternatively, Huxley Hub is very easily accessible via public transport, with a bus stop at the end of the road.
Our permitted business hours are Monday-Saturday 8 am-8 pm. If you need to contact Huxley Hub management outside these times, please do so using one of the methods below. All tenants will also be provided with an emergency contact number.
Our smaller offices come fully furnished, with a high-quality desk, chair, pedestal and bookcase. However, if you would like any extra furniture or have any of the existing pieces removed, please let us know. Our premium suites are available on an unfurnished basis. However, if you would like Huxley Hub to furnish your suite for you, we can arrange that for an extra charge.
The price includes everything you need for the day to day running of your business. So, there won't be any surprise bills for you at the end of the month! Included in the cost of renting an office at Huxley Hub, to name but a few; broadband, scanning, telephone, furniture (not in premium suites) daily cleaning of communal areas, management fees and utility bills. In your handbook, you will find an inclusive list.
Huxley House
26 Huxley Close
Plymouth
Devon
PL7 4JN
UK